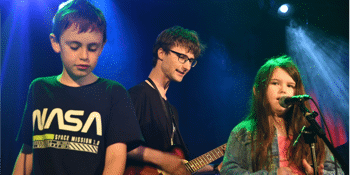 Music Rock Australia presents
Music Rocks
Thu 25 - Sun 28 March 2021 5:45 pm
Music Rocks at Milk Bar will see Music Rocks Australia triumphantly return to the stage where we last performed at in 2013, showcasing more than 450 young musicians with 100 bands/solo artists in the Music Rocks Australia Ensemble and Individual programs on stage for more than 17 hours of music over three big days and 9 sessions of music.
This amazing venue with so much history in the Perth music scene over so many years has been developed into a premiere venue once again. Everything new and officially now 'Milk Bar'
It's gotten so big we have had to add a special "Allstars" Evening performance on the Thursday night of the 25th March to showcase what is possible with music here in W.A. and to highlight what our past and present musicians are achieving all over the world!
'Music Rocks' brings the Western Australian community together with performances from the most elite young musicians in MRA All-star bands, primary schools, high schools, education support centres and community organisations. Young people living out their Rock Star dreams on stage in front of family, friends and the most amazed and inspired public!
Performances will include those for WACE and WASSA certificates recognition for high school graduation, along with triumph for those supported by some of the biggest organisations in W.A. So many musicians will perform for the very first time with musicians as young as 5 years old achieving full Pop and Rock songs of their choice, swapping instruments between repertoire and showcasing the rapid and authentic power of the MRA teaching systems, unique to W.A. and supported by the famous MRA Ensemble Directors.
A not to be missed event for anyone close to an MRA musician and especially for anyone who is set to be amazed by the most courageous young people in W.A. – there is never a dry eye for what will be yet another series of sold out shows

J
***SESSION ALLOCATIONS***
Session 1 - Thursday March 25th Entry 5.45pm, Start 6.00pm
Abby Parkinson
Indi Edmonds
Jack Harrison
Jett Edmonds
Kailee Langdon
Mazenod College
Pulse
Sarah Pollard
Saturday Allstars – Berry, H Hendrawan, Pollard, Stead, Wouk
Screamin Captain Jefferson – Berry, Harrison, Pola, Slabbert
Tali Mayall
The Crackin' – J, B & L Blanchard, Gordon
Tuesday Allstars 1 – Bondarenko, Coultous, A & N Napier, Marazzata
Tuesdays Allstars 2 – Dawes, E Fontana, Goodbun, Tsirigotis, Yeats
Wednesday Allstars – Delanty, Edmonds, McGregor, McMenemy
Session 2 - Saturday March 27th Entry 10.45am, Start 11.00am
April McCracken
Beaumaris Primary School
Dalan Cottral
Emma Hale
Joachim Gabo
Mikey Albert
Philip Mah
Roxy Riley
Sam Noah
Tahnee Bizzaca
Tracey Conway
Workpower Band
Session 3 - Saturday March 27th Entry 12.25pm, Start 12.40pm
Ally Neidrich
Archie Edelman
Casey Troup
Halls Head College Education Support Centre
Irum Faisal
Jake Brown LaMer & Michael Cowan
Liam Dack
Poppy Corbett
TNT's – Cox, Dack, Lawrence, B Fontana
Xavier Biancotti
Session 4 - Saturday March 27th Entry 2.05pm, Start 2.20pm
Blazing Condor Soul Explosions, Dickenson, Hanscomb & Sami!
Jake Williams
Libby Hanscomb
Mary MacKillop Catholic Community Primary Sschool
Taylor Brown
Tija Edwards
Warnbro Education Support Centre
Xavier De Robertis
Session 5 - Saturday March 27th Entry 3.45pm, Start 4.00pm
Armadale Education Support Centre
Chris Xu
Cyril Jackson Senior Campus Education Support Centre
David Ranalli
Emily Kossen
Justin Lekias
Lizzy Martino
Mikaela Powell
Rock Mix – Hodgson, Kossen, Lekias, Martino, Ranalli & Rita!
Session 6 - Sunday March 28th Entry 10.45am, Start 11.00am
Alex Jones
Andie McAuliffe
Beldon Education Support Centre
Ethan Hillbrick
Gian Biares
Mikayla De Cotta
Mo, Evie & Otis Maslin Foundation Band – De Cotta, Dekens, Hamilton, McAuliffe, McCarthy
Monday HQ Band – Clayton, Elliott, Glass, Maxted-Edwards, Whait
Oliver Jones
Ryan Butler
Sienna Durant
Zoey Dekens
Session 7 - Sunday March 28th Entry 12.20pm, Start 12.35pm
Blake Johnson
Blue Door Band – Reyhansah, Robinson, Skewes, Whelan
Charlotte Whittaker
Churchill Okere
Joondalup Education Support Centre
Mullaloo Beach Primary Sschool
Putra Praba
Sullivan Rose
Suria Praba
Wednesday HQ Band – D & M Bellandi, Hall, Keevers, Wall
Session 8 - Sunday March 28th Entry 1.55pm, Start 2.10pm
Cannington Community Education Support Centre
Harini Gajananthan
Jessica Dunn
Norah Hammond
Oliver Blake
Queen of Apostles Allstars
St Columba's School
Winston Blake
Session 9 - Sunday March 28th Entry 3.35pm, Start 3.50pm
Alessia Saraceni
Cristian Saraceni
Jude Buttel
Newman College
Ryan Thomas
Sacred Heart Primary School
This is a licensed 18+ event but all ages are welcome accompanied by their parent or guardian.