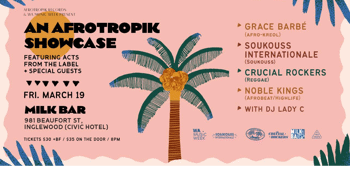 Afrotropik Records & WA Music Week present
An Afrotropik Showcase
Friday, 19 March 2021 8:00 PM
Afrotropik Records, the label behind Grace Barbé, Soukouss Internationale and Crucial Rockers, is putting on a show to celebrate WA Music Week.

The mini festival will be held at the Milk Bar in Inglewood on Friday, 19th March. and will feature the full Afrotropik roster plus good friends Noble Kings and DJ Lady C.

Dancing will be the order of the day because, as the name suggests, the label specialises in Afro, tropical and Caribbean music!
Merch will be available on the night.

This is an 18+ licensed event. Vaild ID is required for entry.